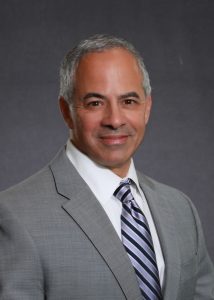 Driven by providing meaningful service to the community and a passion for helping people, David joined the Starfish team as Chief Administrative Officer in August 2017. His role provides leadership, direction, and inspiration that supports the achievement of program objectives.
The son of a Methodist minister, David learned at an early age what it means to be part of a giving community, working together to make a meaningful difference in the lives of others. This upbringing provided diverse experience and helped shape the values that drive his efforts to this day. The fact that David was adopted into his home and has served on nonprofit boards that provide services similar to those at Starfish further connects him personally to the mission of this organization.
Career experience spans from municipal to profit-focused to the world of nonprofits. David had a decade-long career in the real estate industry, managing real estate offices for national companies that focused on commercial and residential real estate services. He honed his leadership skills as well as the ability to carefully manage budgets, setting profit records and gaining national recognition. In phase two of his career, David used these skills to install business acumen in what was then a quickly growing organization managing operations as the Chief Operations Officer at an animal welfare organization—one of the largest in the country. "Discovering the emotional paycheck one achieves in cause-related work has been the secret to a fulfilled professional life" says David. Joining Starfish continues that quest for making a meaningful contribution to society.
Formal education includes an undergraduate degree in Health Services Administration emphasizing finance and management as well as a Master's in Business Administration. David is a graduate of the University of Arizona and a proud wildcat fan. He lives in Brighton with his wife Lesley and their daughter Ava.