Starfish Family Services, the go-to resource for infant and children's mental health in Michigan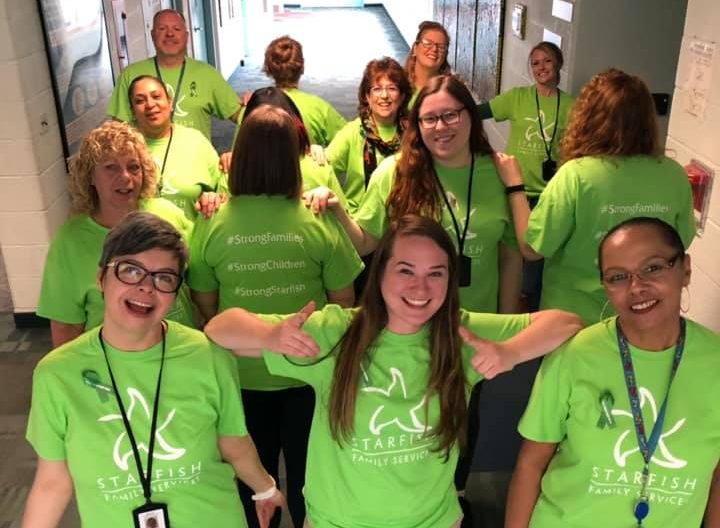 May observes the 70th annual National Mental Health Awareness Month, while May 9 is National Children's Mental Health Awareness Day. In recognition of Children's Mental Health Awareness Day, and to shine a spotlight on empowerment, our entire staff of nearly 450 sported custom-made, lime-green T-shirts and ribbons. Our message? #StrongChildren #StrongFamilies #StrongStarfish.
Mental health awareness is vital as depression, anxiety, and behavioral disorders in children continues to increase. According to the Centers for Disease Control, one in six children ages 2 – 8 has a mental, behavioral, or developmental disorder. These conditions contribute to the growing number of adolescents and young adults who are attempting or dying by suicide.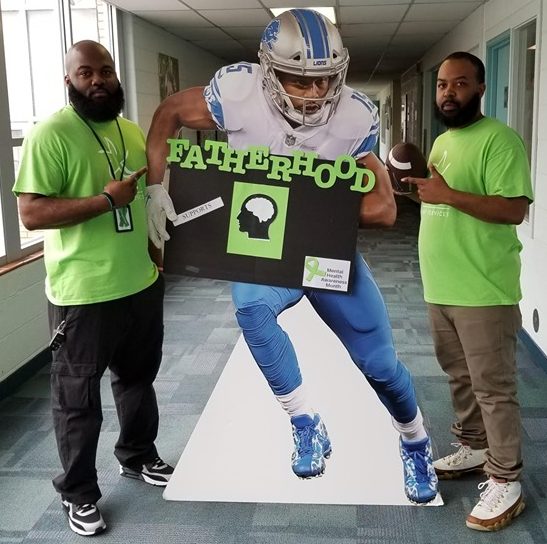 In recent years, mental health has come to the forefront of national conversations from politics to the medical community to social media. Starfish has been committed to mental health awareness since our inception in 1963. Our mission to strengthen families to create brighter futures for children can only be done with wholistic health and wellness in mind. We are devoted to mental health awareness and celebrate each child and family that has breakthroughs in our programs.
Starfish does everything possible to embrace and embody the tenet "Children's Mental Health Matters." Two groundbreaking individuals in the field, Jennifer Jonika and Karol Wilson, are child mental health champions who complete hands-on work every day to provide high-quality programs that support child development.
About Jennifer Jonika: Jonika is the Director of Maternal and Early Childhood Clinical Services at Starfish and Michigan Association for Infant Mental Health Board President. She has been serving Starfish since 2003 and currently operates creative programming for at-risk young children. She has tripled the size of maternal and early childhood behavioral health services at Starfish. Jonika's programs provide opportunities for young children to express themselves in a healthy way. She provides tools for the long-term success of families by working with both mothers and young children.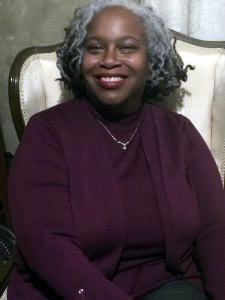 About Karol Wilson: Wilson has over 20 years of experience and won the 2019 Selma Fraiberg Award for her outstanding work with Michigan infants, children, and families. She is the first African American to achieve endorsement as an Infant Mental Health Mentor. In addition to being a published researcher, Wilson presents her work at conferences and workshops across the globe. At Starfish, she co-supervises the "Partnering with Parents" program and helped develop our "Baby Power" program—both of which empower young children and families.
Baby Power is a 10-week intervention program for mothers with young children that includes home visits and group therapy to aid the mental-health of new moms via stress reduction exercises to decrease the risk of maternal depression and anxiety. Partnering with Parents offers in-home and center-based supports for families with children up to age 5 to encourage infant/toddler advancement through counseling and parenting techniques to overcome behavioral challenges.
Through the work of both Jonika and Wilson, and other stellar team members, Starfish provides personable, expert-driven care to our families. Our programs advocate on behalf of one of the most vulnerable groups of our population and treat the challenges they face with expedience and warmth. Jonika and Wilson offer a glimpse of the highly qualified and talented staff at Starfish.
Click here to read more about our behavioral health services.