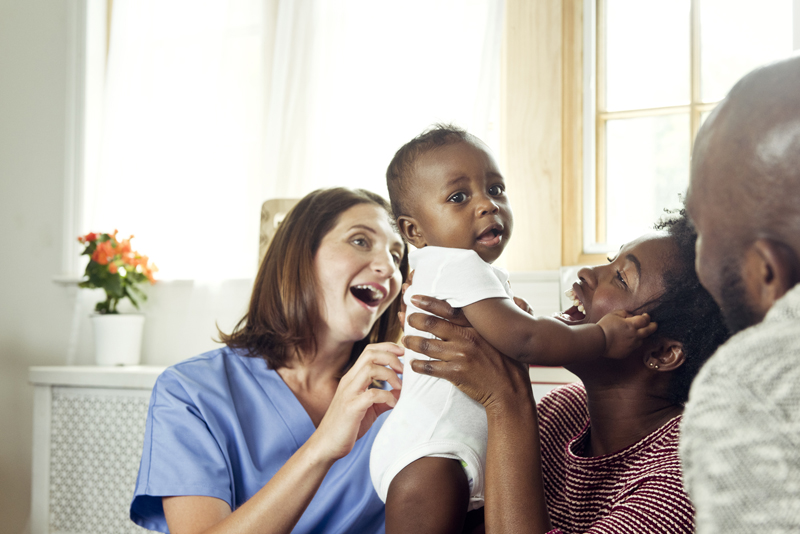 At Starfish, we help empower families from the very beginning.
We are accepting NEW clients. Contact us: (833) 637-2229
Starfish NFP staff in action during COVID-19. During the pandemic, Nurse Kimberly Bracey continues to have regular visits with moms using FaceTime or other video or phone programs. Telehealth is helping our staff stay connected with NFP moms when they need it most. "I've found that each mom has different needs, different technologies, different spaces," Nurse Kim shared. "No matter what the moms need, we're meeting them where they are." Click to read the article or click to download the PDF.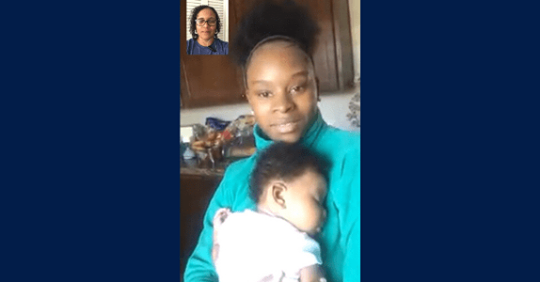 ---
About Nurse-Family Partnership
Nurse-Family Partnership (NFP) is a national nonprofit that, for nearly four decades, has delivered a life-changing community health program model in locations throughout the United States. The goal: empowering first-time moms to create strong futures for themselves and their babies.
How does NFP work?
Nurse-Family Partnership works by having specially trained nurses regularly visit young, first-time moms-to-be, starting early in your pregnancy, and continuing through your baby's second birthday. Early = week 16 (4 months).
A relationship you can count on
Nurses and mothers make a 2.5-year commitment to each other. This equals about 60 planned home visits. That's a lot of quality time! Our Starfish nurses help guide you, as a first-time mother, through the emotional, social, and physical challenges as you prepare for a healthy birth.
Prenatal support is just the starting point. We support you after delivery to continue positive growth for you and your baby.
NFP in action: take a look
Check out this inspiring story captured by Fox 2 Detroit, featuring Starfish NFP Supervisor Melissa Klein and NFP mom Shar Fuquay. In addition, click here to read some amazing success stories facilitated by Nurse-Family partnerships.
What are the many benefits?
Prenatal best practices
Prenatal care from health care providers
How to improve your diet
How to prepare for the arrival of your baby (e.g., what happens when you give birth?)
Challenges following the first few weeks after delivery (e.g., breastfeeding and potential postpartum depression)
Health and development for both you and your baby
Individualized parent coaching based on your needs
Child development milestones and behavior
Sensitive and responsive caregiving.
Life coaching for you and your family
We're here to offer support and resources to invest in your vision for your future (e.g., staying in school, finding employment, planned future pregnancies)
Includes family members, the baby's father, and friends
Meet our NFP team
We have a committed and experienced team of nursing professionals and support staff, including a data administrator who is vital to our success. Each brings a unique set of talents, but all are committed to creating a strong and nurturing bond with their family partners.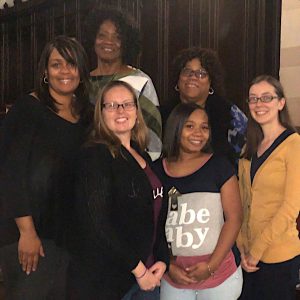 Meet our NFP supervisor
Melissa Klein, RN, BSN has been a registered nurse for 6 years. She received her associate's degree at Wayne County Community College and went on to earn her bachelor's at the University of Michigan. Melissa began her professional nursing career as a labor and delivery nurse at Hutzel Women's Hospital, then transitioned to Nurse-Family Partnership Detroit. As a home-visiting nurse Melissa served her community for 3 years. She is now the Starfish nursing supervisor for Nurse-Family Partnership. Melissa is a lifelong Detroiter who has a strong commitment to and compassion for the families of Detroit, especially its maternal and infant community. Melissa is pictured above; she is second from the left.