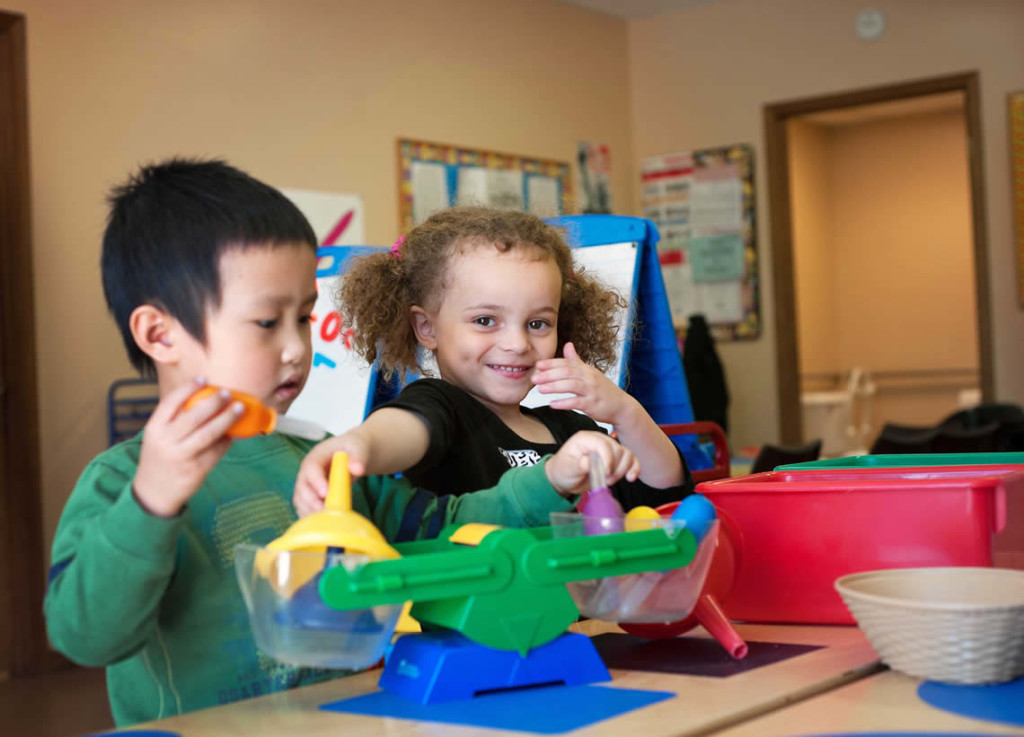 At Starfish, we believe that early learning has lifelong benefits.
We are actively enrolling for all early childhood education programs. Contact us: 844-849-5437 OR register online
---
The best education possible!
We're committed to providing the best education possible for our youngest children, and one that supports the whole child and the whole family. Whole child includes mental, physical, social, and emotional development.
Did you know? Essential brain development occurs during the first three years of a child's life. As such, the years before kindergarten are critical, and Starfish is here for every step of that journey.

Who is eligible for Starfish Early Childhood Education programs?

We offer free (must be income eligible) programs for children ages 6 weeks to 5 years old. Our Marygrove Early Childhood Center offers tuition-paying options.
Starfish Early Childhood Education
includes:
Center-based and

home-based

programs
Quality curriculum that follows

HighScope™,

which is based on interactive, hands-on learning, and individual creativity.
Dedicated, caring, and professional teaching staff—

100% of our teachers

have an associates, bachelor's, master's degree and/or Child Development (CDA) credentials
Low

child-to-staff ratio,

which means more individual attention
Medical and dental

check ups

Parenting supports

to include the whole family in early learning
Opportunity for

parents to volunteer

in the classroom
What is a home-based program?
We bring school to you—in the comfort of your own home!
Focusing on: pregnant moms-to-be and pregnant moms with children ages birth to three
A certified and trained Starfish staffer will arrange biweekly visits with you and your children year-round.
One-on-one and customized plan based on YOUR needs. This might include:

Prenatal information
Emotional & social support
Referrals and resources
What our parents say!
Virtual learning: "Our teachers have been in constant contact which I appreciate so much—whether it's calling to check in or giving me further educational ideas to help me help my daughter during this time."
Whole-family support: "The family service guide at my center is amazing! My family was in need of some mental health services and she went above and beyond in helping us find the services we so desperately needed!"
Leg up on learning: "Liliana is 5! She is ready for Kindergarten thanks to the amazing teachers at Starfish! She honestly had the best, most caring teachers. They helped her learn many new skills such as talking, colors, counting, and even how to make friends! I recommend all parents to contact Starfish and enroll their child."
Call us today to learn more:

844-849-KIDS (5437)
Starfish ECE partnerships

Thrive by Five
Thrive by Five Detroit is a collaborative partnership among three Detroit social service agencies: Development Centers, Focus: HOPE, and Starfish Family Services. Our goal? To offer innovative Infant/Toddler and Preschool programs to families in Detroit.
What is the Starfish role? We operate as the lead agency and fiduciary.
Great Start Collaborative
The Great Start Readiness Program (GSRP) is Michigan's state-funded preschool Program for four-year-old children with factors which may place them at risk of educational failure. The program is administered by the Michigan Department of Education, Office of Great Start.