Brie Zeltner, Bridge Michigan | Published online May 14, 2020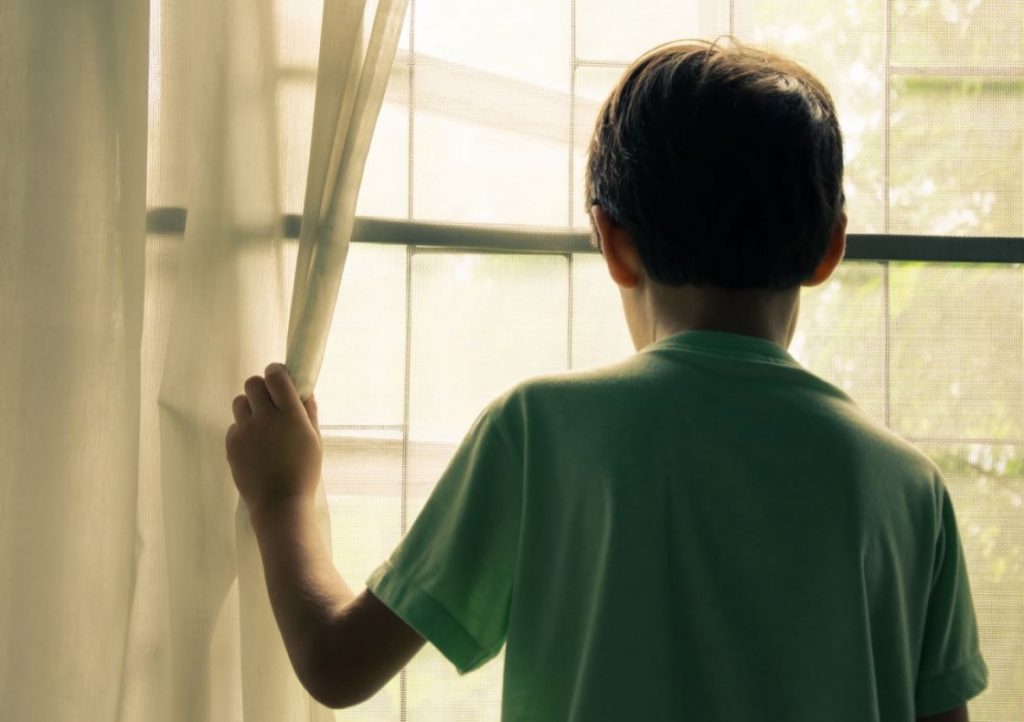 In the Sterling Heights condominium complex where Mary Johnson lives with her 9-year-old son and husband, kids began playing together outdoors as soon as the weather improved.
The sounds of shouting and giggling drift in through Johnson's windows, a siren call to play that is nearly impossible for a child to ignore, especially when the coronavirus pandemic has severed ties to school, classmates and friends.
But Johnson's son Nathan, a third-grader and only child, hasn't been able to join in.
"Most of the kids outside playing are siblings," Johnson told Bridge Magazine. Nathan "hasn't been able to play with anyone since this started."
Only children are just one group of kids who are more vulnerable to the isolation and stress caused by the pandemic, experts told Bridge. Kids with pre-existing anxiety or depression, kids with developmental and learning disabilities, and those living in chaotic or unstable homes also may not be faring as well.
"When you're already emotionally fragile, or experiencing developmental or behavioral issues, a crisis only exacerbates those challenges," said Marisa Nicely, vice president of clinical and youth services at Starfish Family Services in Detroit, which offers families early childhood education, behavioral health and parenting support. That is true for kids and parents, she said.
For parents as well as children, the loss of a school routine, interaction with peers and the outside support of relatives, teachers, social workers, school psychologists and therapists can compound an already stressful time.
There's little research on the potential consequences to children of social distancing and isolation during a lengthy pandemic. It's an unprecedented situation, though experts say research is underway.
But studies of children during natural disasters show they tend to be more vulnerable than adults to trauma and the disruption of routine these events cause, and can suffer long-lasting anxiety and post-traumatic stress effects as a result.
Angela Gallihugh's 7-year-old son, Elijah, who has Down syndrome, has received near-daily school-based occupational, speech and physical therapy for most of his life. For the past nine weeks, he's barely had any.
"I fear he's falling behind and he's not going to be ready for third grade," said Gallihugh, 32, of Warren, who works overnight shifts pricing items at Kroger and does her best to help Elijah with schoolwork during the day.
"He was having some behavioral issues before the pandemic. What's going to happen when it's over and he goes back to school?"
As a teacher herself, Johnson, 31, the Sterling Heights mom, isn't so worried about her son's academic progress, though his attention deficit disorder has been making attending to school work and online Zoom meetings with his class more difficult. She's more concerned about Nathan's emotional health, she said.
"I can't imagine my son not playing [with other children] until this ends," she said of the COVID-19 outbreak. "It could be a year — who knows?"
Worry is justified
Parents are justifiably worried their children may be suffering emotionally, developmentally or academically during the pandemic, said Dr. Steven Krug, a pediatric emergency medicine doctor at Anne & Robert H. Lurie Children's Hospital of Chicago.
"I think the concern is quite rational or reasonable," he said. "I don't think that anybody really knows about the magnitude of the impact of the pandemic, and the impact likely varies tremendously from one child to the next."
While schools are using technology such as video conferencing and tablets to maintain connections among students, teachers and classmates, there's only so much technology can do to help children maintain connections, said Dr. Jenny Radesky, a developmental behavioral pediatrician and researcher at Michigan Medicine's C.S. Mott Children's Hospital.
"Social interaction is the primary way that kids learn," Radesky told Bridge. "Interaction that's mediated through a screen, that's part of a video chat, is not the same thing. For right now, it's the best we have."
For young children, a lot of learning happens through play, Radesky said. "So much of the way that kids play, with adults or with kids, is by sharing and exchanging objects, whether it's cards or cars. You can't get a playful exchange of objects" by video.
Parents who tried to limit "screen time" pre-coronavirus are now finding that it's impossible to do so when schooling and nearly all social interactions happen on phones, iPads and computer screens.
And video learning can be particularly challenging for children who already had difficulty with attention or who are easily overwhelmed, doctors told Bridge.
Gallihugh's son Elijah has two Zoom meetings a week with his mainstream and special education classmates, but these can lead to overstimulation and "meltdowns" for him, she said.
"He decided he didn't want to be on there anymore and just slammed our laptop shut and ran away," she said. "He ended up throwing himself on the floor and having a fit because he was too overstimulated, too excited and emotional."
Some children may risk falling behind, or not getting the care or attention they need because they don't have equal access to the technology it takes to stay connected, said Nicely of Starfish Family Services.
"Access to technology can be a huge barrier to implementing telehealth or online school," she said, especially among those living at or below the poverty level. Starfish has been buying Wi-Fi enabled tablets to distribute to their clients to make this easier, Nicely said.
Widening the circle
As Michigan finishes its ninth week of social distancing and schooling from home, and the state makes some tentative moves towards an economic reopening, some parents are considering widening their social circles to give their kids a chance to really play.
On Mother's Day, May 10, Johnson took Nathan to visit his grandmother, who lives alone and took care of Nathan daily before he entered school. "They're really close — she's like a second mother to him," she said.
After that visit, it was decided it was best for Nathan to see his grandmother more regularly.
"It was too much mentally on my mom and on him for them to be apart," Johnson said.
Ideally, Johnson would like to find another family who would be willing to let their kids play with Nathan over the summer. She knows it's a risk, but feels it would be worth it for her son's mental health.
"There's only so long you can keep kids apart," she said.
It's not surprising that families are thinking along these lines as the reality of a summer without sports and camps sinks in, experts told Bridge. Still, there's a lot of personal and community-level risk to be considered, they said.
"This is what feels so impossible," said Radesky. "What we know would improve our own mental health as families, through more social connection and being able to go back to normal… is going to contribute to more virus spread."
Dr. Carolyn Landis, a pediatric psychologist at University Hospitals Rainbow Babies & Children's Hospital in Cleveland, said that whether to include others in your family's quarantine bubble is a tough decision that each family has to make on its own.
"We do need to err on the side of caution," she said. "Each family has to weigh the risk and think: 'Is it worth it?'"
Still, there are ways for kids to get more social interaction safely, she said. If they're willing to keep physical distance, they can share outdoor events such as barbecues and bonfires with other families.
Krug, of Lurie Children's Hospital, echoed that idea, noting that he's seen children in his neighborhood talking and playing from opposite sides of a driveway or sidewalk.
"It's not a completely normal interaction, but it's a way to reduce the impact of isolation on both adults and children," he said.
What to do
Parents worried about their child's emotional wellbeing during the pandemic should make an appointment to speak with a pediatrician or counselor about their concerns, Krug said.
"While it may not be the traditional medical concern like a fever, I think parents should have a low threshold to seek help right now, because these are extraordinary times," he said.
Most pediatricians, therapists, counselors and social workers are offering telephone or video visits.
Starfish Family Services has been able to connect with about 80 percent of its clients in this way, Nicely said. The organization has shifted its focus to crisis management for most of the families it serves, she said, and are trying to help families get through each day.
Nicely said she is particularly worried about the families they've been unable to reach.
"These are families that have the least resources and are under the most stress. They don't have the access to the technology and they don't have phones with unlimited data so that we can be constantly reaching out to them."
Despite the very real concerns of the pandemic, experts say most kids will likely bounce back from the challenges they're facing right now, especially if they have warm, supportive adults around them.
"Kids are resilient, and as long as parents are attentive to their kids and to their own feelings… in the end things will then get back to normal," said Krug. "Of course, the new normal may be very different."