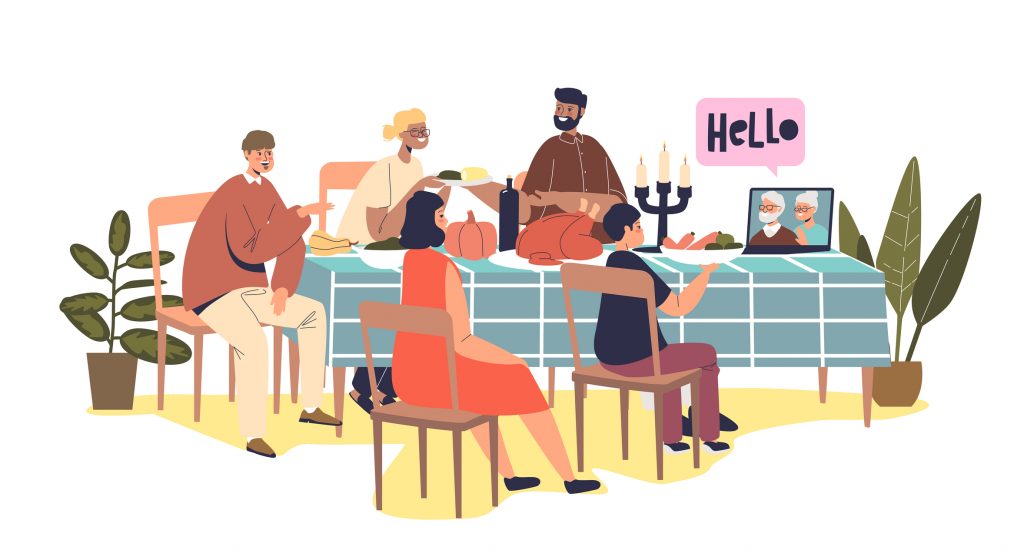 Thanksgiving is traditionally a time for family and friends to come together and celebrate. Last year, during the first wave of the pandemic, many of us drastically limited our gatherings—spending the holiday alone or only with those in our immediate household. In 2021, we are still in the throes of a pandemic, but now we have more protective factors to help make safe decisions for ourselves and families.
Many people are calling this Thanksgiving "Vax-giving," a reference to having most (or all) family members who are gathering on Thanksgiving be fully vaccinated (or children 5-11 years old receiving at least 1 shot). Hosting a "Vax-giving" can help protect children and adults in your family who are not yet eligible to receive the vaccine or cannot receive the vaccine due to medical or religious reasons. It can also help reduce anxiety for some. An added layer of protection families can utilize is at-home COVID-19 tests. These tests can be done hours before guests gather and can be purchased at your local pharmacy.
This might mean having a difficult conversation with family members who are not vaccinated or following safety guidelines. You might decide to ask these guests to test before coming, wear a mask while indoors, or you might not feel comfortable inviting them at all. It is important to prepare yourself mentally and emotionally for such conversations. Try taking a few deep breaths and practicing the conversation with a trusted friend or another family member. Remind everyone that you are trying to keep everyone as safe as possible. Visit the Centers for Disease Control and Prevention: Safer Ways to Celebrate the Holidays.
According to an article from The New York Times, "For many people, coping with the anxiety of getting out and about may be the hardest part of adjusting to this new phase of pandemic life." If you are feeling anxious, begin by assessing the risk of COVID-19 exposure for yourself and those you will be near. Recognizing and saying out loud that you are feeling stress or anxiety—and mindfully taking stock of your body cues—will help this feeling pass. Ultimately, do what feels right for you and your family.
Holidays in general can cause some stress, which is typical and okay! Below are some tips and tools to help you and your family navigate "a normal for you" during the holidays. (Compiled by Starfish Trauma Informed Care Specialist Alice Santa, MSCP, TLLP. Materials adapted from The National Child Traumatic Stress Network and Connecticut Children's.)
Parents & Caregivers: Taking care of YOU will increase your patience with your children & ease their distress.
Allow yourself to feel sad, worried, or angry.
Do something to take care of yourself.

Listen to your favorite song.

Pay attention to your body—is your body tense, relaxed, alert?

Try to adjust your expectations.
Focus on what you are grateful for during the holiday season.
Children look up to you and model your behaviors and energy. If you reflect positive, calm behaviors, your children will pick up on those cues and do the same.
Children (0-12 years old): Moments of connection allow children to feel loved and seen.
Examples of connection moments:

Singing holiday songs together

Hugging and holding your child

Validate children's emotions!

Let them know it's typical and OK to feel angry, frustrated, or sad about the changes to their holiday traditions.

For younger children, keep things simple in terms of explanations and celebrations.
Get creative about how to express thanks for what's near and dear right now.

Try writing letters or making cards.

Ask them for their ideas about how to make the holiday special.
Teenagers and Young Adults: Listen! When teens talk, they often want to feel heard, not to have you solve the problem.
Ask them how they are feeling. Validate their feelings and let them know you are there if they need to talk.
Allow them a sense of control by giving them choices, such as allowing them to plan a special activity or, maybe, help out with cooking if it's something they enjoy.
Engage in self-care activities with them.

Disconnect from electronics for a little each day

Practice relaxation activities together:

Paying attention to how their body is feeling