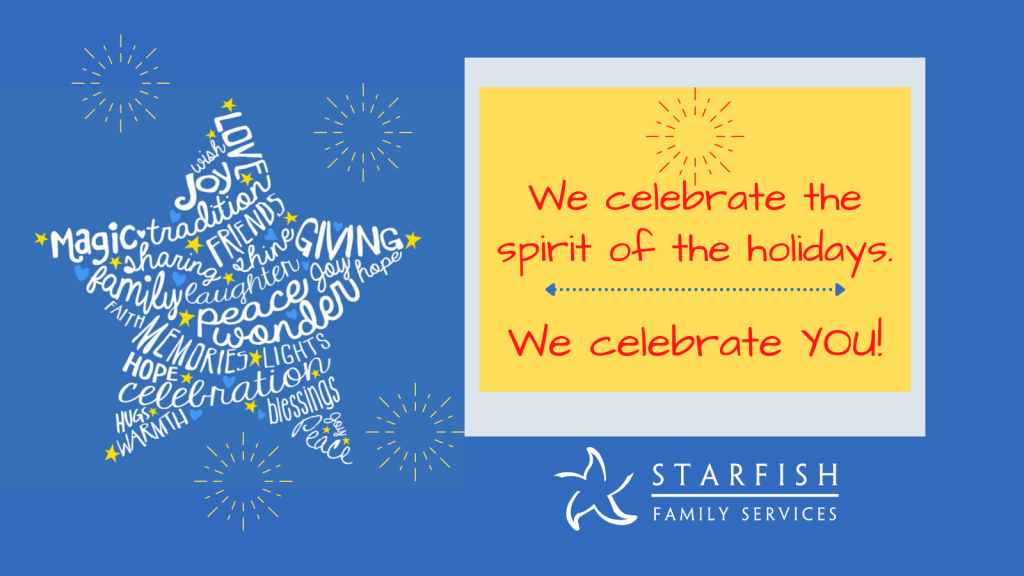 The holidays belong to us all. Whether you celebrate Hanukkah, Christmas, Kwanzaa, Los Posadas, Diwali . . . what binds us together is hope, the joy of giving, faith, and family.
At Starfish, we celebrate the spirit of the holidays. We celebrate YOU.
At the end of another extraordinary year—a year of challenge and change, triumph and tragedy—it's essential to honor the people who have helped make the world better. At Starfish, your support is our greatest blessing.
We, like you, seek a better today and an even brighter tomorrow: One in which all children have the opportunity to soar to their highest potential and all families can strive to reach their greatest goals.
Because of you, Starfish can confidently remain committed to delivering meaningful work that moves children, families, and all of us forward. Because of your positive partnership, we know anything is possible.
From your Starfish Family: Sharing humble gratitude for your trust and collaboration. Wishing you peace. Sending you hope for a safe & healthy holiday season.