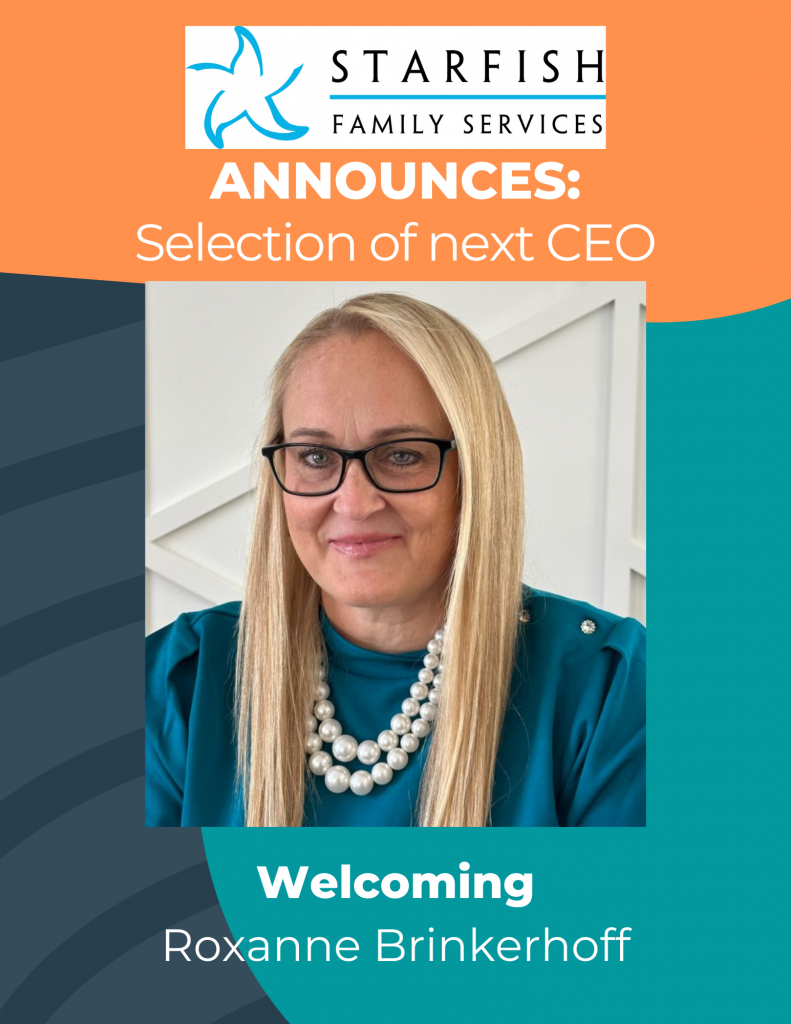 We are so honored to announce the next CEO of Starfish Family Services! Following a national search, unanimous approval from the search committee, and enthusiastic support from the Board of Directors – Roxanne Brinkerhoff has been named the incoming Chief Executive Officer. She will begin her role on January 17, 2023.
For more than 20 years, Brinkerhoff has brought significant leadership to children-focused nonprofits. Roxanne is the out-going CEO of Detroit Institute for Children and a past executive at The Guidance Center, a strong and collaborative partner to Starfish. Brinkerhoff considers outgoing Starfish CEO, Ann Kalass, a mentor and the two have worked in partnership in the community for more than a decade.
"I am incredibly honored to welcome Roxanne to the CEO role at Starfish," Kalass shared. "I have witnessed Roxanne to be an unrelenting advocate for families, community, and innovation. She has a powerful determination, and I have no doubt that her expertise and vision will carry Starfish into an incredible new chapter." 
A graduate of the University of Michigan and Leadership Detroit XXXVII, Brinkerhoff is a member and past vice president of Great Start Collaborative-Wayne. She is a proven asset to children and families who are navigating labels and social barriers, whether gender, special educational pathways, mental health needs, or neurodiversity.  
"I am so excited and honored to join the Starfish team and come home to the work I love the most," Brinkerhoff continued. "I have been fortunate to focus on children and families through my entire career, and early childhood education and behavioral health are the center of my passion and expertise."
Brinkerhoff called Starfish a national model for children-focused nonprofits, with a dedicated and dynamic staff. 
"Starfish is excited to welcome Roxanne to the CEO role and our full community," said Board Chair Carla Burney Jones. "She brings unmatched experience in our program areas and has an obvious and inspiring commitment to mission and a vibrant future both for Starfish and the children and families of Southeast Michigan. We feel very fortunate to hire someone with such meaningful expertise and who is already deeply respected in the community for her impact." 
Current Chief Program Officer and Starfish employee for more than 20 years, Marisa Nicely, reflected, "When I recently learned of Roxanne's hire – I was immediately excited about working together and her arrival to the Starfish team! Roxanne and I have worked together in the community for a long time. She is an inspiring leader and has been a force in our movements for years and years. Her kindness and empathy make her a stand-out. She puts the Starfish values of integrity, equity, and teamwork into action every day."
"This is an incredible opportunity to build on decades of accomplishments and trust and ensure that inclusion and equity are woven into the fabric of our daily action and long-term planning," Brinkerhoff said. "I have been inspired by the dedication of everyone I interacted with and cannot wait to get started." 
For Brinkerhoff, this role is also deeply personal as a former Head Start parent herself.  
"I know first-hand how amazing Head Start is and how the program helps families through the day-to-day challenges while also helping to build hope and strength for tomorrow. Our Head Start teacher was an angel in our lives," Brinkerhoff reflected. 
Brinkerhoff is incredibly proud of her two young adult children who are a Division 1 pitcher and engineering student – and – an aviation-focused professional, respectively. Roxanne's husband is a long-term educator in the Wayne Westland Community Schools District, another partner entity to Starfish in Wayne County.
Starfish is working on a variety of virtual and in-person Meet & Greet opportunities starting in the new year. We cannot wait for you to meet her!
With excitement and gratitude,
Carla Burney Jones – Board Chair
Howard Morris – Most recent past Board Chair and CEO Search Committee Chair
Click here to read announcement article from Crain's Detroit Business: https://www.starfishfamilyservices.org/wp-content/uploads/2022/11/Starfish-names-Roxanne-Brinkerhoff-as-its-next-CEO-_-Crains-Detroit-Business-1.pdf