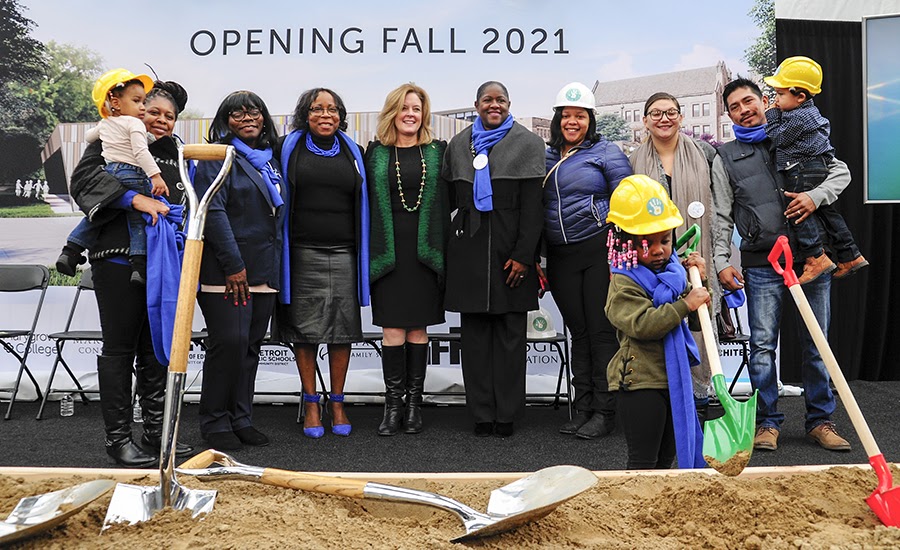 A P-20 Cradle-to-Career Campus
The future of Detroit depends on an investment in its children.
What is a P-20 campus?
An all-in-one campus that will offer Detroit children educational opportunities and whole family support services from birth to 5, to K-12, to college and postgraduate (also referred to as Cradle-to-Career). Learn more about P-20 at the official Marygrove Conservancy P-20 site.
Where is the P-20 campus located?
On the beautiful 53-acre Marygrove College campus in Northwest Detroit, situated in the Livernois-McNichols community. Click for area map.
Why is P-20 so revolutionary?

This pilot program invests in children first as a means to revitalize a neighborhood. And by integrating best practices from a collaborative of partners (including community members and parents), it has the potential to be replicated across Detroit and nationwide.
What is the Starfish role?
Based on our 55+ years of leadership in early childhood development, Starfish was chosen to establish and operate a custom designed, state-of-the-art Early Childhood Education (ECE) Center. The ECE Center will:
provide comprehensive early childhood programming that connects young families with infants, toddlers, and preschoolers to the services they need to flourish.
Take a virtual tour
Early renderings supplied by ECE Center architects Marlon Blackwell. Designs were informed by community neighbors, parents, and children, along with best practices in behavioral health and early childhood education. 
The ECE Center space will be:
Welcoming, Peaceful, Inspired
Friendly, Playful, Open
Mindful, Holistic, Healthy
Watch the construction progress
Starfish ECE Center innovations? 
A new benchmark for education
Starfish is working with University of Michigan to develop a year-round cutting-edge infant/toddler curriculum specifically for diverse children in an urban setting.
Whole child focus
Behavioral & developmental health services
Informed culture of trauma care
Whole family focus
Parenting classes, prenatal support, childcare
Parent policy councils
Frequently asked questions?
Check back often as plans for the P-20 campus and the ECE Center continue to evolve.
1) What is the timeline for the ECE Center? 
Groundbreaking: November 22, 2019 [complete]
Enrollment (beginning): January 2021
Center is complete: Second quarter 2021
Classes begin (no earlier than): Fall 2021
2) How big is the ECE Center?
28,000 sq/ft situated on 3 acres of the tree-filled Marygrove campus.
3) Will only children in the direct neighborhood be enrolled?
Not necessarily. Priority will be given, however, to families who reside in a 1- to 2-mile "catchment" area surrounding Marygrove. Click for area map. 
4) Will there be a diversity of children?
Yes. The P-20 ECE center will serve families from diverse backgrounds and incomes.