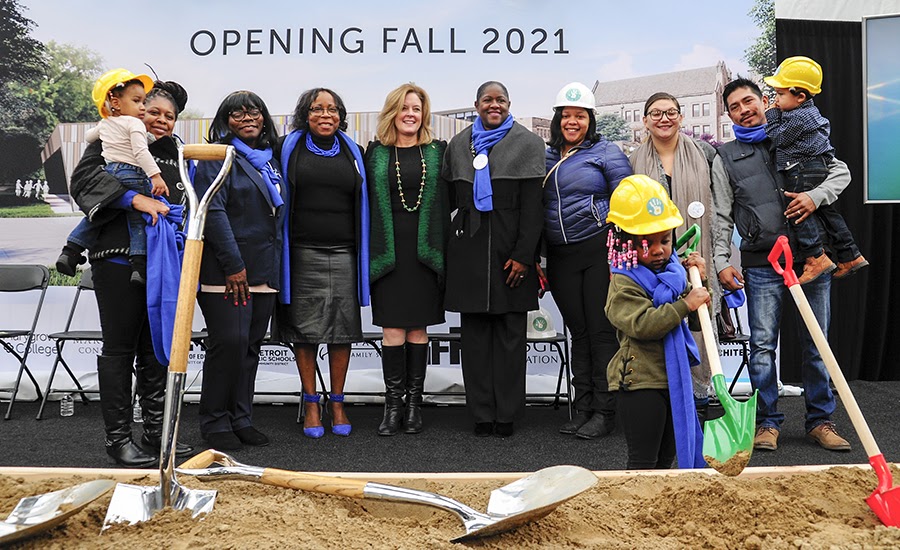 The future of Detroit depends on an investment in its children.  
The Early Childhood Education (ECE) Center, established and operated by Starfish, is part of the Marygrove P-20 education model. What is P-20? An all-in-one campus offering a continuum of support for families starting with prenatal partnership and extending to K-12 and pathways beyond. It is also called Cradle-to-Career. Learn more about P-20 at the official Marygrove Conservancy P-20 site.  P-20 is located on the beautiful 53-acre Marygrove Conservancy campus in Northwest Detroit, situated in the Livernois-McNichols community. Click for area map. 
Why is P-20 so revolutionary?

P-20 is transforming the educational landscape in Detroit. Grounded in social justice, equitable opportunity, and commitment to community, the P-20 model honors the 90+ year legacy of Marygrove College by elevating it to a new standard of exceptional. By providing access to high-quality education and holistic support services, students and
families are empowered to define their own futures and that of their own neighborhood.
What is the Starfish role?
Based on our nearly 60 years of leadership in early childhood development, Starfish was chosen to establish and operate an exemplar Early Childhood Education (ECE) Center that sets the foundation for the opportunities on the P-20 campus. Together with the P-20 partners, Starfish will implement and test new best practices that can be replicated regionally and nationally.
Take a virtual tour
Renderings supplied by ECE Center architects Marlon Blackwell. Designs were informed by community neighbors, parents, and children, along with best practices in behavioral health and early childhood education. 
The ECE Center space will be:
Welcoming, Peaceful, Inspired
Friendly, Playful, Open
Mindful, Holistic, Healthy
Watch the construction progress
Starfish ECE Center innovations 
A new benchmark for education
Starfish and leading University of Michigan education scholars created a full-day culturally responsive curriculum specifically for the ECE Center, focusing on equity, STEM, and social studies.
Whole child focus
Integrated behavioral & developmental health services 
Informed culture of trauma care 
Whole family focus
Parenting classes, prenatal support, childcare  
Parent leadership opportunities 
A pioneering program for educators
Our ancillary teaching school will build a talent pool of exceptional urban early childhood educators.
Frequently asked questions?
Check back often as plans for the P-20 campus and the ECE Center continue to evolve.
1) What is the timeline for the ECE Center?
Groundbreaking: November 22, 2019 [complete]
Enrollment (beginning): January 2021 [underway]
Center is complete: Second quarter 2021 [certificate of occupancy April 2021]
Classes begin (no earlier than): Fall 2021
2) How big is the ECE Center?
28,000 sq/ft situated on 3 acres of the tree-filled Marygrove campus.
3) Will only children in the direct neighborhood be enrolled?
Not necessarily. Priority will be given, however, to families who reside in a 1- to 2-mile "catchment" area surrounding Marygrove. Click for area map.
4) Will there be a diversity of children?
Yes. The P-20 ECE center will serve families from diverse backgrounds and incomes.