Introducing our new CEO — Roxanne Brinkerhoff!
FRIDAY MARCH 10 – OPEN HOUSE HAS BEEN CANCELLED AND WILL BE RESCHEDULED DUE TO SNOW – THANK YOU!
Please join Starfish in a casual gathering to welcome Roxanne and – most important – for her to have a chance to connect with our broader community and meet YOU! For virtual sessions – a link to a Zoom meeting (no Zoom account required) will be sent 48 hours prior to the session. Following a RSVP to an in-person Open House, our team will send you details about timing, parking, and any additional information to ensure for a great experience for all! Everyone is welcome! Families, supporters, community partners, our staff colleagues, neighbors – we'd be honored to greet you. If you have an immediate question, please email Peggy Kaczmarek at: pkaczmarek@sfish.org. Hope to see you soon!
Click here to RSVP to one or more session: https://bit.ly/StarfishOpenHouseRSVP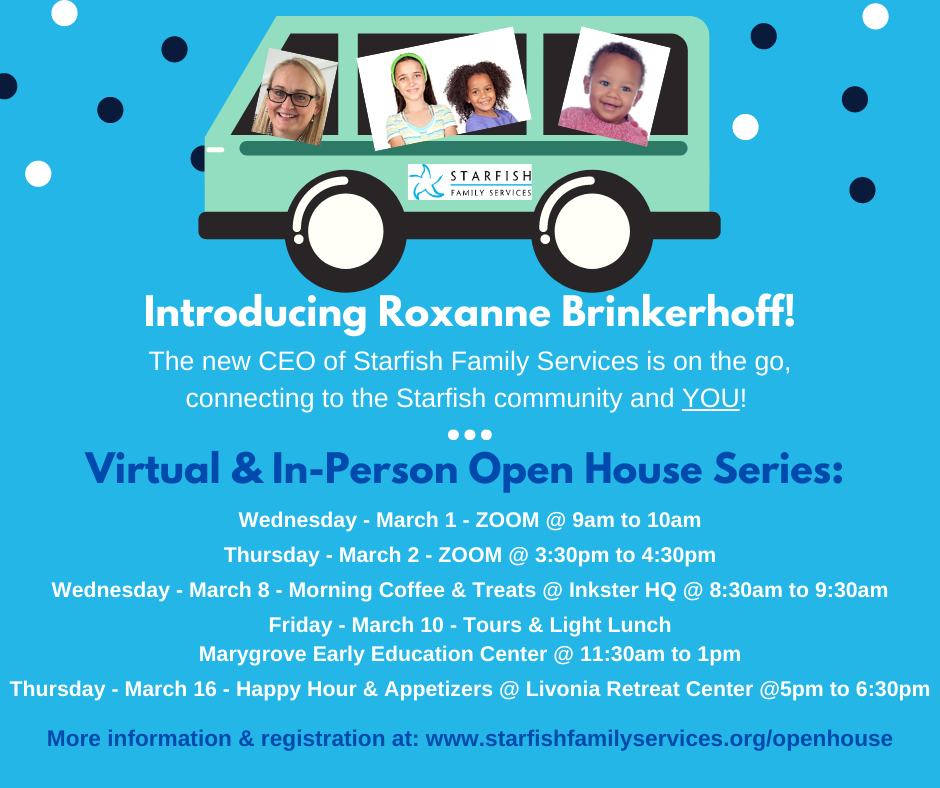 Final ZOOM links and/or additional in-person meeting guidance (including parking instructions) will be sent with RSVP. However, we know that the details can impact your planning or ability to attend. Please see the below also in a larger sized font. Thank you!
***Wednesday, March 1 @ 9am – ZOOM
***Thursday, March 2 @ 3:30pm – ZOOM
***Wednesday, March 8 – Coffee & Treats @ 8:30am – SFS Headquarters: 30000 Hiveley St, Inkster, 48141
***Friday, March 10 – Tours & Light Lunch @ 11:30am – Marygrove Early Education Center: 4825 W McNichols, Detroit, 48221
***Thursday, March 16 – Happy Hour @ 5pm – Livonia Retreat Center: 18316 Middlebelt Road, Livonia, 48152