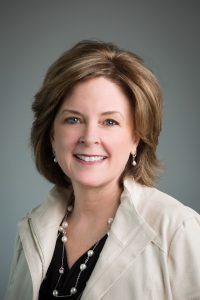 Ann Kalass has served as the Chief Executive Officer of Starfish Family Services since 2007. Ann brings a passion for children and families to her work—along with a belief that all children in our community can learn, grow, and thrive.  She is driven by the gross inequities in our community's educational and social systems that hold back too many children and families. 
As CEO, Ann is responsible for strategic planning, fund development, board development, fiscal management, and program and organizational development for the $45 million private, nonprofit agency.  In this role, Ann has led a period of unprecedented strategic growth (over 300% growth in revenue), by defining and strengthening the agency's core competencies in early childhood development, behavioral health services, and family support programs. Ann has expanded Starfish's impact in Inkster, Detroit, and surrounding communities, and the agency currently serves more than 4,000 children birth to 17 across Wayne County on an annual basis.  Working with parents, Starfish drives positive outcomes for its children with 82% of its preschoolers leaving for Kindergarten assessed as "school ready."  
In 2016, Ann was appointed by Governor Rick Snyder to the state's 21st Century Education Commission to contribute to the development of a long-term strategy to drive necessary improvements to educational outcomes for all Michigan children and to better prepare students for a global economy. She currently serves on the State's Office of Great Start Advisory Council.  
The Aspen Institute named Ann as a member of the 2015 Class of Ascend Fellows, placing her in a group of 21 national leaders from a range of sectors who bring breakthrough ideas to build economic security, educational success, and health and well-being for low-incomes families in the United States.
In 2014, Starfish was named as the lead agency in a $75 million, 5-year initiative as part of a national Birth to Five Pilot from the Office of Head Start, to serve 1,000 Detroit children under age five annually in some of the city's most vulnerable neighborhoods.  Starfish leads a collaborative of long-standing social service organizations determined to work together to rebuild the system of care and supports for Detroit children.    
Ann has 25 years of management and leadership experience in the profit and nonprofit sectors, including 13 years at Ford Motor Company prior to joining Starfish.     
Ann volunteers in leadership capacities in causes important to her—specifically, education and healthcare. She just completed five years of service on the Northville School Board.  She formerly served on the Oakwood Healthcare System Board and continues to serve as vice chair of the Beaumont Wayne Community Advisory Board. 
Ann earned her Bachelor of Arts degree from the University of Pennsylvania and her MBA from the Tuck School at Dartmouth College.  In 2009, she received a certificate from Harvard Business School's Strategic Perspectives on Nonprofit Leadership program.  
Ann and her husband Scott reside in Northville with their two daughters.