Since March 2020, when the COVID-19 pandemic first arrived in Michigan, Starfish has been committed to doing everything possible to keep our employees, children & families, and communities safe. How to keep people safe during such uncharted times has been a continuous learning experience—especially since no two days during the pandemic have been the same. One constant is that Starfish is dedicated to consistent, timely, and transparent communication with our community as part of our response management. To stay informed, visit and bookmark our COVID & Our Community page.
Decisions based on data
We leverage data and health-expert guidance in making all decisions. COVID case and testing data is posted three times a week on Mondays, Wednesdays, and Fridays by Michigan Department of Health and Human Services. It steers our course as we make purposeful adjustments to our protocols. For example, the below is from October 13, 2021. The average number of new confirmed cases is 4,335 per day. October 2021 trends are worse than one year year ago. And we are trending upward as we head into the holiday season.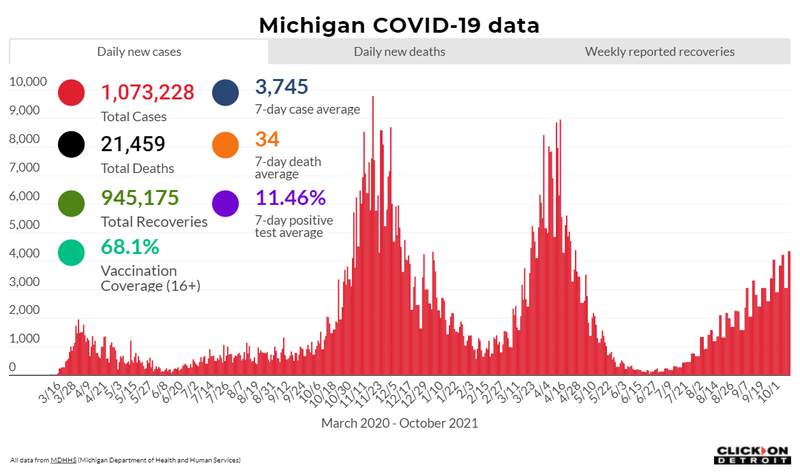 We plug health-expert data and Starfish-collected data into our own rubric. The cumulative score indicates our color-coded level of response. In this case, we are ORANGE.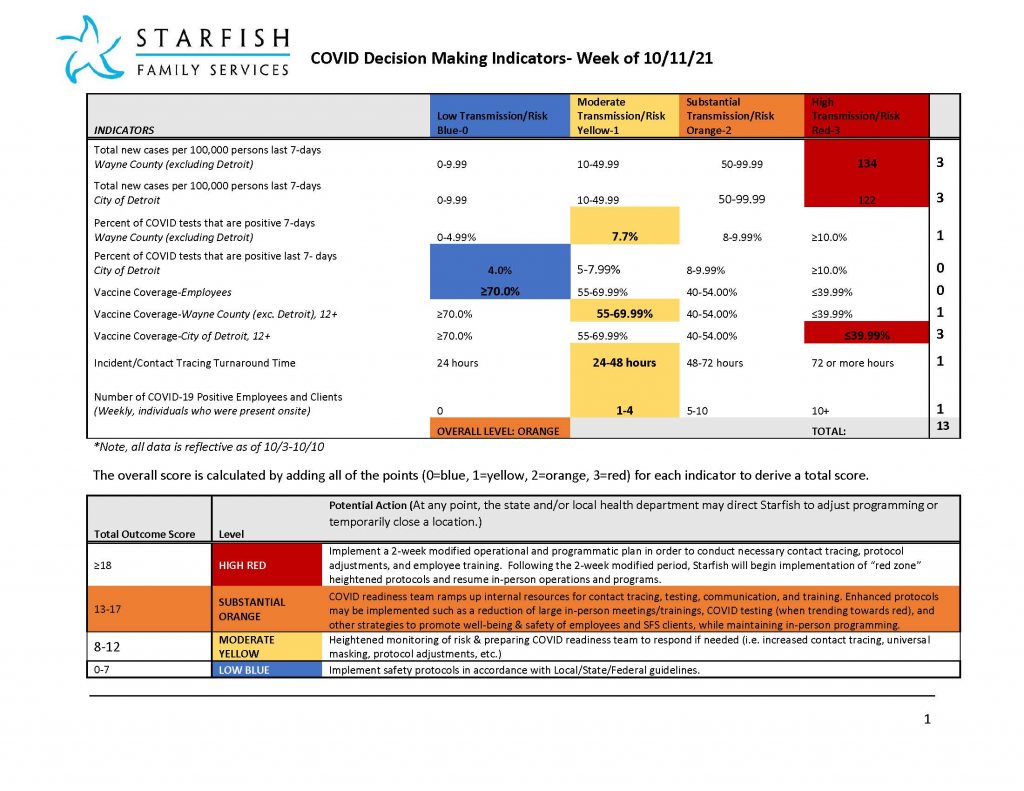 This means all the action items below are 100% in effect and 100% enforced.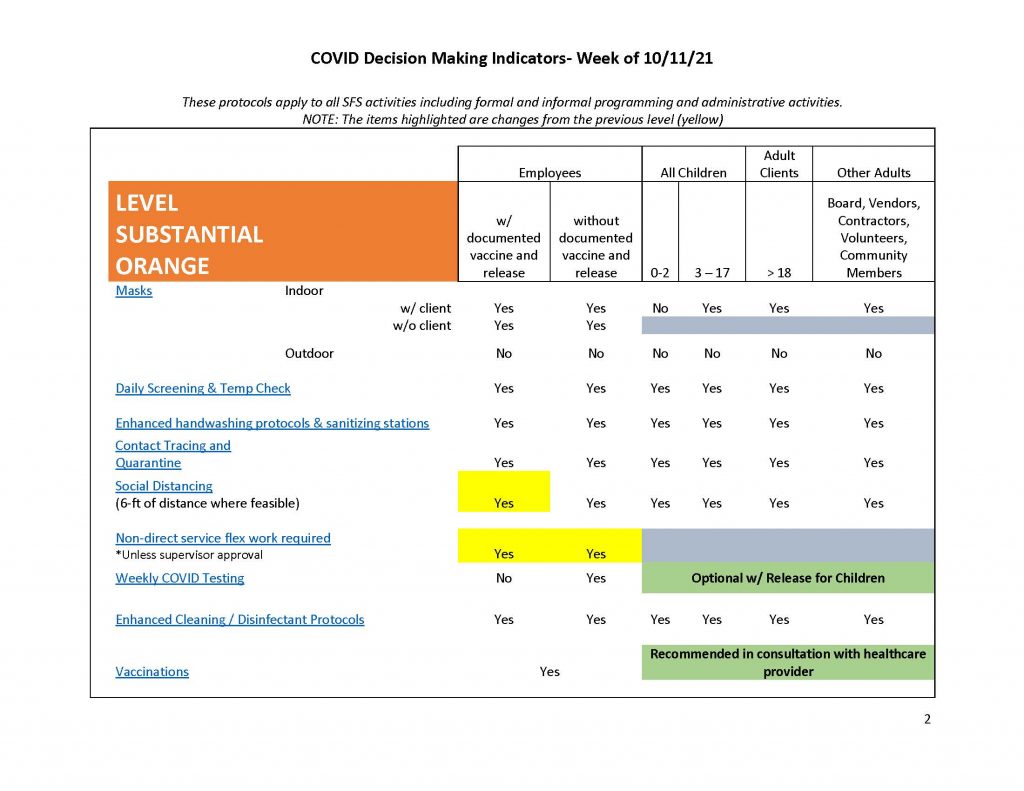 COVID safe start success
The Starfish COVID Transition Team (CTT) is the steward of our COVID Safe Start Plan. CTT members meet at least weekly to analyze dashboards created by the Starfish Value Acceleration team and strategically problem solve. Such ongoing evaluation has resulted in a robust series of investments and protocols, including but not limited to: mask wearing, social distancing, handwashing, health screening tools, facility updates, contact tracing, and quarantine. And it's working! We have not had any identified positive cases that are traced back to known exposure at Starfish.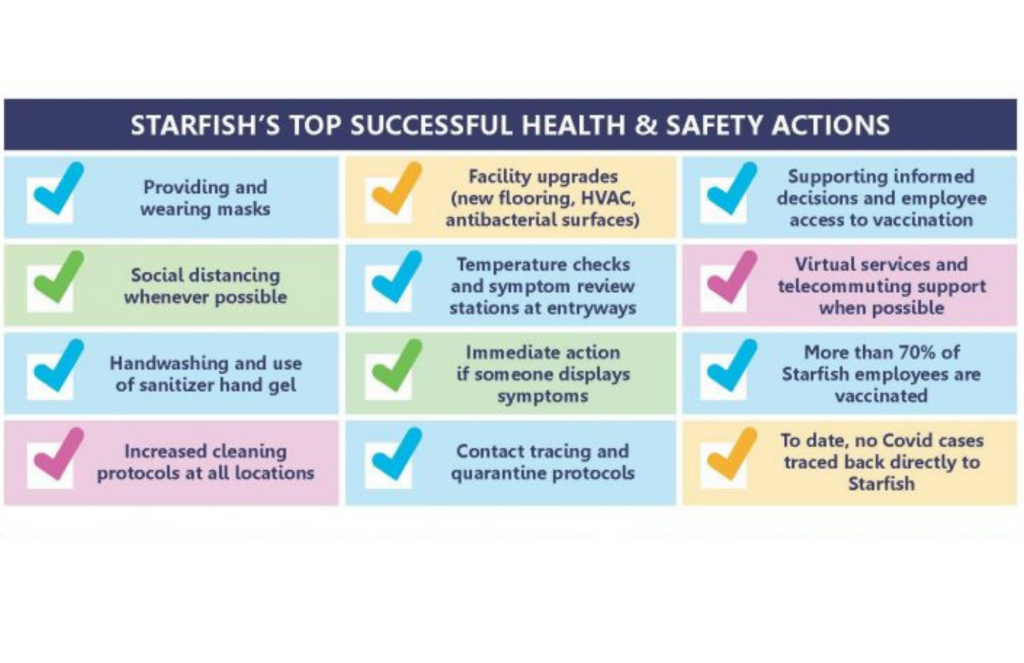 Escalating our safety efforts
Mandatory vaccinations
We believe vaccinations are an essential and safe community-level strategy for saving lives and combating COVID-19. Since January 2021, we have offered numerous opportunities for Starfish employees to get vaccinated, and we continue to provide accessible education and forums where employees and clients can gain information and insight. Currently, more than 70% of our employees are fully vaccinated but, after much deliberation, we decided that more needed to be done and now.
Mandatory Vaccinations: On September 29, 2021, and with unanimous support from the Starfish Board of Directors, Starfish announced an agency-wide COVID-19 vaccine mandate with a deadline for all employees to complete the vaccination process and verify their status with Starfish by 5:00 p.m. on Friday, November 12, 2021. Determination of non-compliance will result in immediate termination and ineligibility for rehire at Starfish. Unvaccinated employees may also choose to resign in writing prior to the deadline and will be eligible for rehire upon proof of completed vaccination(s). Employees seeking an exemption from this policy due to a medical reason or because of a sincerely held religious belief must submit a completed Request for Accommodation form to, and work with, our Human Resources Department.
Some additional context surrounding this decision and mandate are outlined here:
The Pfizer COVID-19 vaccination is now fully approved by the U.S. Food & Drug Administration (FDA).
The Centers for Disease Control (CDC) followed by releasing an updated Vaccine Overview and Safety brief.
On September 9, it was announced that OSHA is developing an Emergency Temporary Standard (ETS) that will require all employers with 100 or more employees to ensure their workforce is fully vaccinated or require unvaccinated workers to provide a negative COVID-19 test result at least once per week before coming to work.
On September 9, Office of Head Start notified grantees like Starfish that all at Head Start and Early Head Start programs will be required to get vaccinated by January 2022.
Starfish is subject to both the Head Start and ETS requirements, and these announcements impact every employee and our entire Starfish community. We are implementing the mandate in advance of the January 2022 deadline to increase safety for all clients, families, and employees—and to ensure that we can maintain exceptional services and our commitment to mission.
Starfish COVID-19 testing program
Starfish's latest investment centered in the priority goal of safety for all begins October 19, 2021. Starfish will offer onsite and free-of-charge COVID-19 testing two days a week at 10 of our centers in Detroit and Western Wayne County. Finding COVID-19 infections early helps stop the spread to other people. Testing will help stop the risk of spread through our centers by employees and clients who may not know they are sick. Starfish employees, children enrolled in our programs, and children's caregivers will be offered the opportunity to test once a week. Results are available the next day.