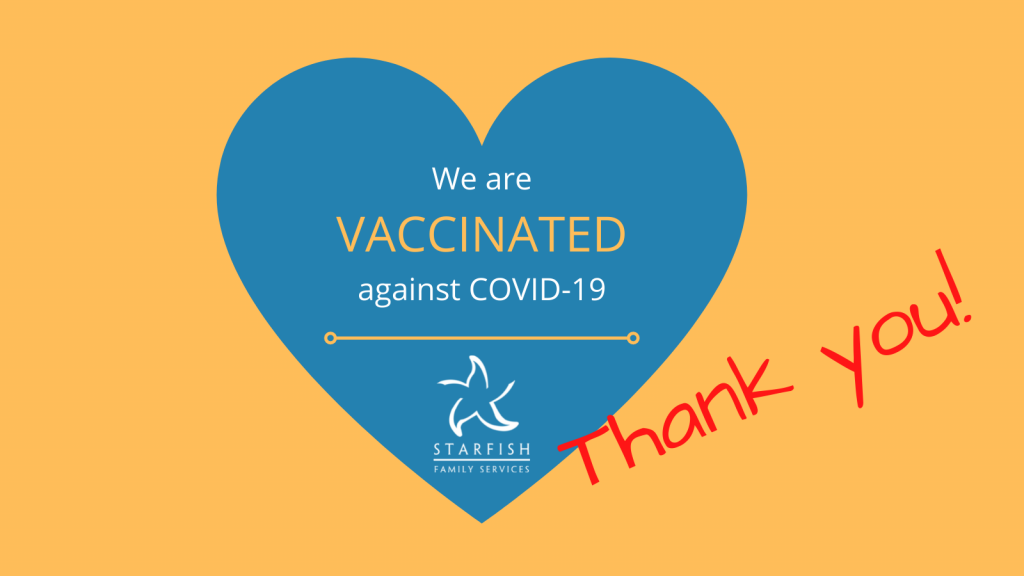 Today I offer my profound gratitude for Starfish employees and their commitment to become fully vaccinated—THANK YOU! I am so proud of our teams and their unwavering support for mission. This means Starfish can keep our doors open for children and families who need our services and steadfast allyship now, more than ever. (Starfish CEO Ann Kalass)
The COVID-19 pandemic has uprooted our ability to connect with friends and family, often chipping away at our daily rhythm, increasing isolation, and pulling children further away from educational and health milestones. On October 1, 2021, Starfish Family Services announced a Covid vaccination mandate for our employees with a November 12 deadline to participate.
Since the pandemic first arrived in Michigan, Starfish has been committed to doing everything possible to keep our employees, children & families, and communities safe. From mask-wearing, to handwashing, to social distancing, to screening tools, to increased cleaning—Starfish has leveraged guidance from health experts to inform our planning.
A vaccine mandate was simply the next tool to keep our commitment to safety and protect the extremely vulnerable children in our programs who are too young to be vaccinated or wear masks.
I know that for many of our employees, considering vaccination was a complex decision that involved consultation with doctors, family, religious leaders, and even neighbors and friends. I spoke to more than one employee who pushed past very real and deep-seeded fear to become vaccinated. I acknowledge that this was not an easy process—even as we feel confident in Starfish's strategies to support heath and safety.
I want to share a reflection about getting vaccinated from one Starfish employee, Sarah Stolicker. In their role at Starfish, Sarah currently supports our Safe Start protocols. Again, thank you Team Starfish and thank you, Sarah!
Reflection from Sarah:
I initially chose to get vaccinated early in the pandemic after seeing my spouse, who is a nurse, come home defeated and depressed after work because of how overloaded the hospital was, how sick the patients were, and with no vaccine available at the time, how scary it was to be in contact with people with COVID-19. I vowed to do whatever it took to help bring an end to the pandemic and to keep my spouse, my family, friends, neighbors, and community safe. As an able-bodied, healthy person, getting vaccinated when the Pfizer vaccine initially rolled out was a relatively easy way for me to do my part for the community and for the people I care about.
Months after getting vaccinated, I took on a new opportunity at Starfish where the first task was to provide leadership and project management to our Safe Start protocols, specifically ensuring the vaccine mandate was completed and employees had the information and support they needed. Helping Starfish finalize this project and cross the finish line will positively impact the long-term health and well-being of every member of our Starfish circle—employees, families, and children. It was a very thoughtful and significant consideration for many of my colleagues. I appreciate the chance to be a partner through many exhausting days and will always know that being part of our mission—and keeping everyone safe—is honorable work.