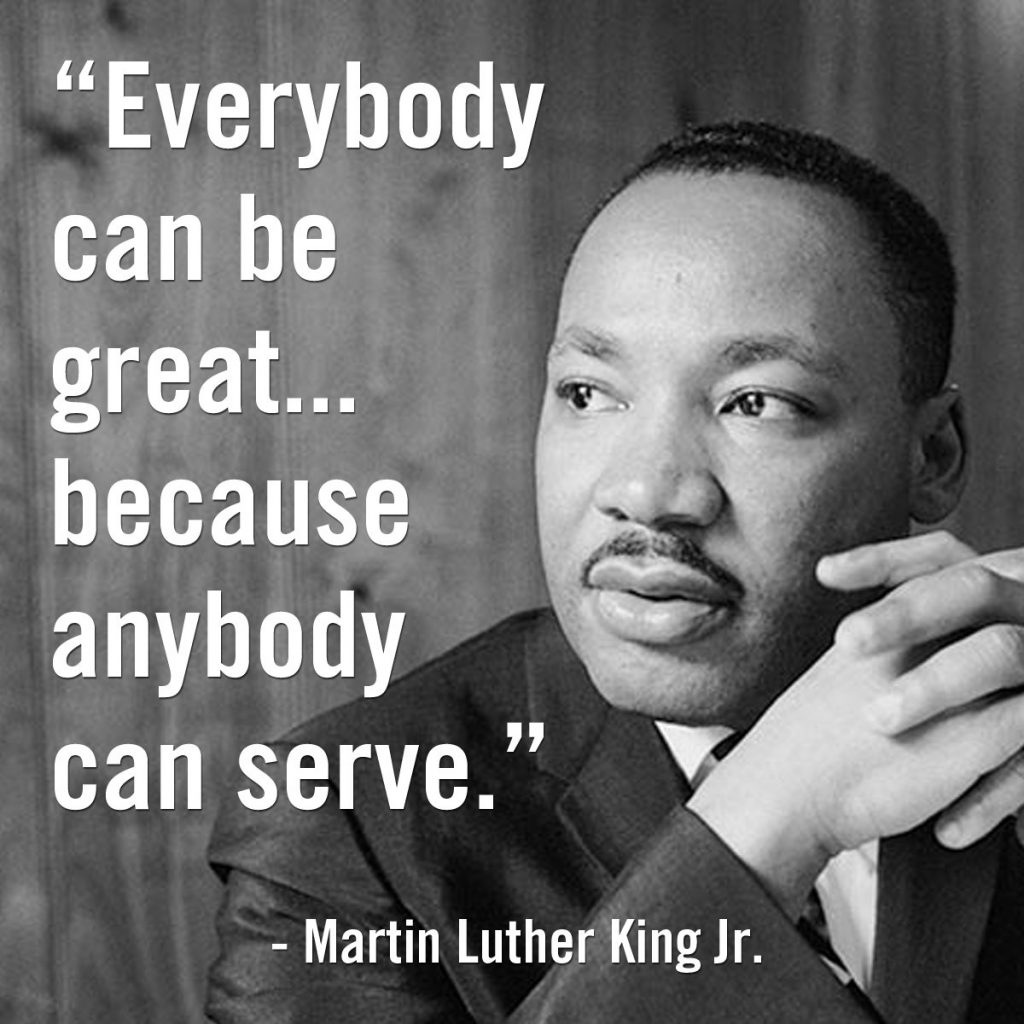 Monday, January 17 marks the federal holiday that honors the birthday of Dr. Martin Luther King Jr. (His actual birthday occurs on January 15.) Signed into law in 1983 and first observed in 1986, the holiday is a deserving tribute to Dr. King for advancing civil rights and social justice through nonviolent protest.
It has grown beyond a federal holiday honoring Dr. King into a national day of community service. Each year, service projects are planned across the country to reaffirm Dr. King's message of serving others. It's actually not a day off, but a day on!
AmeriCorps has a searchable database of MLK Day volunteer opportunities. Simply put in your zip code and click on the "MLK Day" box to find the projects available in your area.
Ways to find virtual volunteering opportunities at any time: Search established databases such as VolunteerMatch.org, Catchafire.org, or Points of Light. If there's a particular organization you would love to help, you can also check the organization's volunteer section on their website.
Jan. 17: Commemorative Events (in-person)
Note: Due to COVID-19, some events may cancel without notice and those that do take place may enforce social distancing, face masks, and other safety protocols. Make sure you visit the links for your chosen event(s) for additional details.
MLK Jr. Day: Give Us the Ballot at the Detroit Historical Museum

Time: 10:00 a.m. to 2:00 p.m.
Location: 5401 Woodward Ave., Detroit, MI
Cost: Free with museum admission. $10 for adults; $8 for seniors, students, active military, and first responders; and $6 for children ages 6-17. Admission for all children under 6 is free.
Details: Visitors can participate in a voter registration project for kids as well as listen to an expert on the importance of registering to vote. Kids will make their own 'mock' voter registration cards and receive MLK worksheets and coloring pages. The event will conclude with cupcakes and a sing-along to Stevie Wonder's "Happy Birthday."
Martin Luther King Jr. Day at the Henry Ford Museum of American Innovation

Time: 9:30 a.m. to 5:00 p.m.
Location: 20900 Oakwood Blvd., Dearborn
Cost: Free
Registration: NA
Details: Learn about the contributions Dr. King made to the civil rights movement and view civil rights artifacts, including the Rosa Parks bus. Make a statement in the interactive program "Minds on Freedom," highlighting the contributions of Martin Luther King Jr., Rosa Parks, and civil rights champions like the Freedom Riders. Explore the exhibit, "With Liberty and Justice for All."
Jan. 17: Commemorative Events (virtual)
MLK Drive for Peace, Justice and Equity Hosted by: Dr. Martin Luther King, Jr. Task Force Inc.

Time: 9:30 a.m.
Location: Virtual (Live starting at Hope United Methodist Church, 26275 Northwestern Hwy., Southfield)
Cost: Free
Registration (to attend virtually via Zoom & Facebook): You must pre-register

Details: The Dr. Martin Luther King, Jr. Task Force, Southfield, MI was the first and remains the largest in the State of Michigan to celebrate the holiday.
19th Annual Detroit MLK Day Virtual Rally & Cultural Program Hosted by: Detroit MLK Day

Time: 11:00 a.m. to 12:30 p.m.

Location: Virtual
Cost: Free
Registration: NA
Details: The 2022 event will be streamed utilizing Facebook, Zoom, and YouTube. The online character of the event provides the opportunity to invite guests from around the U.S. and the world. Visit the Detroit MLK Day Facebook page for more information.