Brianne Twombly, LMSW, IMH-E III is the Manager of Trauma-Informed Care at Starfish Family Services. Bri has over ten years of specialized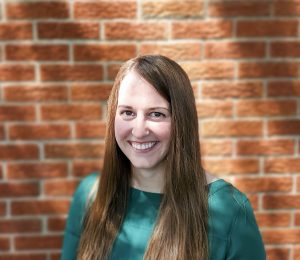 experience in the treatment of childhood trauma and toxic stress.  One of her passion areas is supporting the integration of trauma sensitive mental health services into early childhood education centers through training and consultation.  She has participated in Child Parent Psychotherapy (CPP) and Trauma Focused Cognitive Behavioral Therapy (TF-CBT) training and facilitates Trauma Smart training at Starfish.  In addition to participating in county initiatives on trauma informed care, she is a certified Adverse Childhood Experiences (ACE) Interface Master Trainer.  She has experience training on many topics including early childhood trauma and trauma-informed care.
Please call or email Brianne Twombly at 248.615.9730 or btwombly@sfish.org for information on how your organization can become trauma aware or how to integrate trauma-sensitive mental health consultation into your early childhood setting.
Christina Grim, LLP is the Director of Child, Youth, and Family Clinical and Trauma Services at Starfish Family Serv
ices. She specializes in the treatment of childhood trauma and toxic stress. She is a Nationally Certified Trauma Cognitive Behavioral Therapist (TF-CBT), a trained Supervisor in TF-CBT, and participates in various county and state-wide initiatives to bring trauma awareness throughout the state of Michigan. Christina was awarded The NAMI Clinical Professional of the Year award for all the trauma work she has done within Starfish and throughout the county.
Please call or email Christina Grim at 734.261.0184 or cgrim@sfish.org for information on how your organization can become trauma aware and informed.
Michelle Duprey, LMSW is the Director of Integrated Health Care at Starfish Family Services. She has over 20 years experience as a child and family therapist, leader, and clinical trainer on many topics including childhood trauma. She specializes in providing non-integrated medical practice
s with the expertise, technical assistance, and tools necessary to become a fully integrated practice. When a medical practice is integrated, a Behavioral Health Consultant partners with the medical team to help detect needs of patients such as current or past trauma. The Behavioral Health Consultant is trained to provide screening, early intervention, appropriate referrals and consultation to the medical practice to help the clinic and providers become trauma aware, informed and equipped.
Please call or email Michelle Duprey at 734.713.9500 ext. 9527 or mduprey@sfish.org for information on how your medical practice can become trauma-equipped.
Jennifer Jonika, Director of Maternal and Early Childhood Clinical services at Starfish Family Services is a Master's level Clinical Psychologist who joined Starfish Family Services in 2003 and began working in an outpatient mental health setting for children experiencing Post Traumatic Stress Disord
er . Early in her career, she determined her true passion was early intervention and prevention. For the past 10 years, Jennifer has specialized in working with Families of infants and toddlers in the mental health field. All maternal and early childhood clinical staff have a background in Infant Mental health, which incorporates trauma work. This team also uses several evidence based practices for families with children birth to five who have been exposed to trauma such as child-parent psychotherapy and parent-child interaction therapy.
Jennifer is also the Board of Directors Vice President of the Michigan Association of Infant Mental Health.
Please call or email Jennifer Jonika at 248.615.9730 or jjonika@sfish.org for information on how your organization can aid parents in properly attaching to their children and prevent the cycle of intergenerational trauma.